Thin layers of civilization
These are interesting times. Because the US is in this scenario that much of Europe was in 30-40 years ago, we seek to find ourselves in this. Where do we, as individual, as group, as society, as culture, as humanity, where do we stand.
Of Apples and oranges
The thing is, discrimination is human, but it is also instinctive and animal. And yes, no matter how you look at it, humans are yet another species of animals.
As you might have read elsewhere on https://www.metawareness.com, the first emotion, is fear. Fear thrives survival. Without fear, most don't survive, unless very lucky. Fear causes use to find safe spots, safe havens. As humans, like all other great apes and many mammals, we are a social species. We are born in the safety (most of us) of a community. Our parents initially keep us safe (most of the time), but the fact that they themselves live within the protection of a community, within the rules of a society, keeps us double safe. This causes two things:
We are aware that we need to protect our offspring
we are aware that we need to protect our community
Danger, Robinson
To make sure that we don't get into danger, we make sure that the ones in our community, are the ones we know and the ones we know are the ones that think like us. We can identify them, because we can identify 'as' them. We immediately recognize (instinctive) their meaning, if they look a certain way.
Them and us
The further an individual differs from our 'group-general-markup', we tend to be more cautious. This is all instinctive, because different means danger. Fear will make sure that you don't think on it too much. Step back from danger, or die.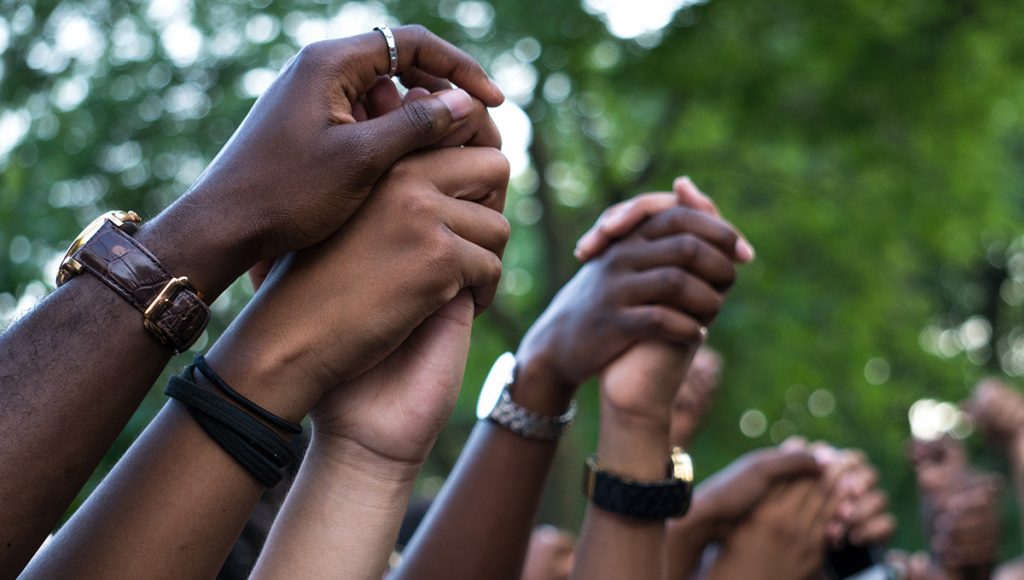 Choose to change
Humanity has evolved, but what we don't accept as part of our genome, we can't decide to change. Religion and general 'leaders' demand that people behave a certain way. The more power a person has, the more money they have. Riches are to be lost and losing creates fear. The more power one has, the more fear one has to lose what is connected.
Everyone is unique, so different
Each individual is different. There is no two humans on earth exactly alike, not even twins. But why do we tend to 'discriminate' and fall for the 'etnicism' (or called 'racism'?
Because of our marvelous intelligence. True, the more intelligent a person is, the less he/she will ideally be concerned about arbitrary things like skin color or bone structure, but it is our intelligence that caused use to go from simply protective, to discriminating and do etnic profiling on the go.
It's just an idea
Here is why: Conceptualisation. When I tell you I went to the store. You don't ask me what the store looked like. You know the function of what 'store' represents and mostly you will ask: 'What did you get?'. The same happens when I tell you I bought a new car. You will not ask me what kind of wipers it has, you will ask me the max speed, the color, the more obvious traits that don't require extensive knowledge of either brands or technicalities of cars.
How come we can't differentiate (most of us) between one Asian person and another, just like you most likely can't tell one from the other from any etnically different human from your own group?
Clean up, stand up
To keep our brains tidy, we group things: Balls (that can be big, small, blue, red, football, soccer, tennis, etc balls), we don't think about the type of balls that can fall into the hegemony, we make it a homogenous group of balls in our mind. Same with Houses, with Money, with Feelings, with Cupboards, with Math equations. We group, to preserve space in our brain, and to (IF the need arises) do differentiation later on when it is important. We do the same with people: Brothers, Sisters, Siblings, Fathers, Mothers, Parents, Spouse, In-Laws, Daughers, Sons, Nephews, Nices. Nowhere while reading those words did you pick one specific image and did you think: Oh, this is about this person. Except possibly with Fathers and Mothers.
Doesn't differ to me
We discriminate because it makes life easier. Circles are circles, squares are squares. However, there are people who are very much aware of this, and they will use it to advantage. Fear is the strongest emotion and therefore the easiest to invoke. 'Divide and conquer' is how wars are won. It is how communities are controlled. You know who you CAN trust, so all one has to do, is make sure you don't trust people that fall outside that scope and you are set for control.
He ain't heavy, he's my brother
When you see your own kin, you put them in a box, when you see non-relatives, you put them in another box. When you see people that are 'images of self', you will allow them in your box. When they differ on visual, auditive or other traits, you will first put them in another box. Why? Safety, quarantaine, ease of mind, conceptualisation for later.
Now is the time, that people can become honest. Move to a new neighborhood and unpack all the boxes. Go to 'Earth' and meet your new neighbours. Unpack and bring a cake. If you don't like your neighbours, dislike them for their actions. That is something that represents their individuality. Not their skin, not their feet, not their smell.
They only divide you, if you let them
We are all human. We should shed the bad concepts like religions. Those are still causing great grief. We should fill our problems with solutions from all trades of life. So everyone can live the same kind of life and enjoy their life on Earth for how long it lasts.